Compare these two web copy samples.
Example #1
When constructing advertorial messaging for business-to-business clientele, both for the printed medium and the widely accessible digital forum of the internet, I have found it expedient and obligatory (to wit, more operative) to craft verbal rhetoric that elicits an emotive response, buttressed by the explanatory rationale, which, by its inclusion, allows the corporate purchaser to justify the procurement of said items to the powers that be. Furthermore, the verbiage employed should coincide with the vernacular common to business personnel as articulated in their diurnal verbal exchanges. The success of said messaging is a direct coefficient of the reader's capacity to meld both the innate emotional benefits of the offering and the essential business enhancements provided, thereby becoming the causation for instituting a purchasing event.
Example #2
A casual tone brings the best results when I write copy and content for my B2B clients. In both print and web copy, you must appeal to both the emotional and logical thinking of the reader.
People buy for emotional reasons, backed up by logic. Even in business.
Web copy works best when written in the day-to-day language of the employee. You know … water cooler talk. I call it 'business casual.'
And it works.
People recognize the business benefits of your product. They marry it to the emotional satisfaction of a good buy. It's something they can bring to the boardroom with head held high.
And the buying process begins.
See the difference?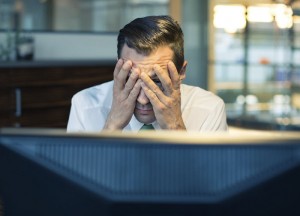 Both examples contain the same messages. They just present them differently.
Most of the difference is found in the wording and sentence structure. There is another important element, too. I'll talk about that in a moment.
I ran both through an editing software. The first one was rated as very hard to read. In fact, the rating was 'post-collegiate.' In the statistics, the app said that 3 of the sentences were very hard to read.
There are only three sentences.
The second example ranked better for readability. In fact, you only need a fourth-grade education to understand it. But … it didn't sound childish, did it?
The second one had 12 sentences. None were rated as 'very hard to read' or even just hard to read.
Smaller word bites are easier to read. And using simpler terms made it more understandable.
And more effective, to boot.
Another trick of the trade – Formatting web copy
As mentioned, the first example had only three sentences, while the second had twelve.
But, a single paragraph contained all three sentences in the first one. It was just one giant blob of text. When I come across web copy like that, it kind of scares me.
Do I want to commit to reading it? Looks like a word jungle to me … and I get lost easily. Do you think your readers might have the same feeling?
Six paragraphs were used in the second example. Those twelve sentences were easier on the old eyeballs. They had plenty of white space to rest the eyes.
They almost looked inviting.
I've been the target of industrial product reps before. They usually sent sell sheets before their visit. Most were technical and hard to read. Just like that first example.
When the rep arrived and asked if I read it, I often replied,
"No, didn't have time. Why don't you just tell me the gist of it, instead?"
An important document that could've had me 60% sold before the visit … was useless. The sales rep had to do all the heavy lifting anyway.
It was a waste of time, money … and paper.
Sophistication … or success?  Your choice.
I understand the inclination toward wordiness and sophisticated language.
We want to appear sophisticated and intelligent. To be thought leaders, whatever that means to you. But …
My favorite quote comes from a very learned individual, Leonardo Da Vinci. There's no doubt he was a thought leader. And yet, he sums it up in one small sentence:
"Simplicity is the ultimate sophistication."
I love that. In fact, you'll find it in the footer of my website. It's that important to me. And it should be to you as well.
Here's to your success!
Steve Maurer, industrial copywriter
(Article originally published on my LinkedIn Profile)
___________________________________
Want industrial strength web copy that works hard for you?
Contact me:
Email me at steve@maurer-copywriting.com
or call me at +1 (479) 304-1086. My contact form is here.
Website: https://maurer-copywriting.com
Mailing address:
Steve Maurer
3000 West Anne Street
Fayetteville, AR (Arkansas) 72704
United States of America