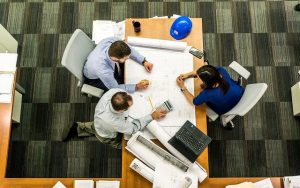 In any relationship—professional or personal—understanding how it works helps smooth the path. It cuts down on the number of 'surprises' and misconceptions. Every professional copywriter I know has a system or method or structure for their work. It's one thing that separates us from hobbyist writers. This is what you can expect:
It all starts with a conversation, usually over Zoom. I'll send a link to my call scheduler so you can block out time on my calendar that's convenient for you. I like to record the audio of these calls so I can keep notetaking to a minimum and give you my full attention. The call normally lasts 30 to 45 minutes.
There will be questions during the call … lots of them. We'll discuss the purpose of the project, including the target audience you want to reach. We'll talk about their CNI factors (challenges, needs, and interests). We want to understand what they really need to hear and then supply it.
The type of marketing content or sales copy to be produced for the project matters. Sometimes, finding out what the reader wants to hear will dictate the format or type. We need to know where they are in the sales funnel. Awareness content, lead generation pieces, and even post-sale retention content often require different types of writing to be effective.
We'll also discuss the results you'd like to see or the next actions you'd like your prospect to take. This helps me create the right copy and Call-to-Action to nudge your prospect in the right direction toward the sale. Every piece, whether content marketing or sales copy, needs a Call-to-Action.
Let me know if you have a deadline for the project. And we'll talk about your project budget. Most likely I'll give you a ballpark figure during the call, followed up by a proposal. Understand I don't work by the word or hour on copy and content projects. Ask me if you want to know why and I'll gladly explain. It's actually better for you and for your budget.
Shortly after the call, I'll send you an email. It will outline what I heard on the call. This ensures we're on the same page. Please let me know if I missed anything. Within 1-2 business days, I'll send a proposal for your review. If it looks good, I'll create a firm quote. A 50% deposit may be required for most larger projects. The full fee may be requested up front for small projects until we get comfortable with each other. I explain more in my pricing guide and fee agreement explanation document.
If we go forward with the project, I'll send you the first deliverable on or before the due date. The final 50% of the project fee will be invoiced, with payment due in net-15 Just so you know, according to U.S. copyright laws, I retain all rights to the work until you pay me in full and I transfer them to you.
The work will go through several of my internal edits before being sent. Then you'll have 30 days to ask for up to 2 revisions that don't change the scope of the project. I ask that you have a point person for me to communicate with directly. Revisions will go through that contact. It's less messy and more efficient. By the way, these revisions don't include requests made by your legal department. Those are separate and extremely important. We want to make sure everything we say can actually be said. I'm not an attorney…your legal team is crucial to our success together. Let's keep them on the bus.
Now that we're done, we're definitely not finished. The timing is perfect for the next project. Let's keep the ball rolling toward your success! Don't worry about forgetting…I'll remind you.
Are you ready to start the conversation? Here's my contact page: Steve's call scheduler and contact form. I'm excited to see how we can work together to move your business to the next success level. And beyond.
Steve Maurer
(Nice guy. Wears work boots. Writes B2B & Industrial Copy)
NOTE: See that little printer below to the left?
Click on it and you can print this page or save it as a PDF to share with your team!