I had to face it. I wasn't a "spring chicken" anymore.
In fact… more than 60 "springs" have come and gone. Not to mention the other 3 seasons.
If I wasn't careful, Old Man Winter was going to kick my butt.
And hard.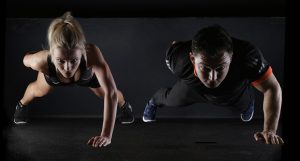 It was past time to make some changes in my lifestyle and health habits. But like they say, it's better late than never…
As long as it's not too late, anyway.
So, I set off on a quest to improve my health and squeeze a little more life out of this old carcass. No… make that a LOT more life.
After consulting with my doctor – an osteopath who believes in adding healthy living and natural mind/body "prescriptions" to the mix – I joined…
A gym.
And since March of this year, I've been going regularly, about 4-6 times a week.
Oh… that's right. Almost forgot.
You're here to learn how Fitbit can improve your industrial sales and marketing.
It's cool.
I got more than just a 'fitness tracker'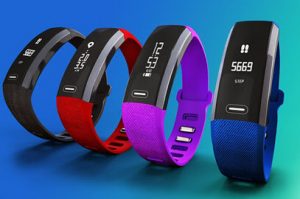 I was cruising through our local discount store (you know… the one with the W) and stopped by my favorite department – electronics. Normally, I wander over to the computers since I'm kind of a geek, even at my age. Love me some tech!
Anyway, the Fitbit display caught my eye. Interesting. It might help get my raggedy old butt back into shape and was kind of geeky to boot.
I checked out the specs on the different models, then wandered off down the aisle.
Shortly… I wandered back. More than once. Or twice.
When I finally sauntered out to the parking lot, my shiny new fitness tracker lay nestled in the shopping bag. I bought the mid-priced model, the Charge 2. It wasn't the fanciest model, coming in at about $150.
But, I was sure it would do exactly what I needed.
And it did, but…
Then, the content marketing kicked in
I'd bought their product and they could have moved on. But no… not these guys!
They wanted to make sure I used the Charge 2… and got real value from my purchase. I signed up for a free account and this little electronic doo dad would sync to my account.
The app on my phone synced to the little tracker thingy and I could keep track of my steps (10,000 daily, courtesy of the AHA recommendation), and push to get those last ones in before bedtime.
The info on the free app was much easier to read and understand. And, I got a free online account that I could log in to and read my stats with big bold characters!
That's cool… 'cause the old eyeballs aren't as sharp as they once were.
I started getting emails about my goals and how well I was doing.
Way to go, Steve! You're kicking it, buddy!
Kind of nice to have someone comment on your progress. They didn't inundate me… just one or two emails a week, helping me stay motivated… using their topnotch product. And letting me know where to find answers, should I have any questions.
Oh… and a little blurb about their other trackers and watches at the end.
Nothing pushy. Just a nod to let me know they had something else that could help me, should my needs change.
They did.
Yeah… I'm a hardcore techy alright. So before long, I gave that tracker to my daughter, who's also started working out.
And it was back to the big "W" store to roam around the electronics department, one more time.
When I got back in my truck, I was wearing my fancy new Ionic Fitness watch. Sure, it cost me a little more than the other model. About a hundred bucks, more or less.
"But dear!" I explained to my wife. "Look at all the useful features this model has! It shows me my heart rate, tracks my steps and tells me the time, just like the other. But wait, there's more, babe!"
"I can get the weather and sports on it. And it connects to my phone, so I won't ever miss a phone call or text from you…
Sweetheart, honey… love of my life!"
"And, if I buy the Fitbit Flyer earbuds, for just an additional cost, I can listen to music while I'm running on the treadmill!"
I did, by the way. Great sound. Fashionable. Very comfortable. Looks so good, you'll be the envy of all your workout buddies, even the millennials.
(You know, I really ought to write sales copy. Oh, wait… I do.)
Anyway…
Industrial marketers… take note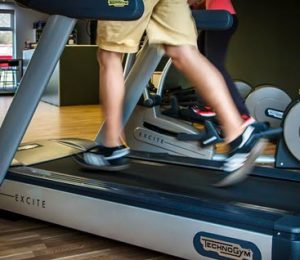 Fitbit's content-after-the-sale did a lot to keep me motivated, to continue using my device. Not everything they sent was related directly to their product, either.
I really felt like getting to the gym, if just to see the step counter soar! They cheered me on, at least twice a week. Cool.
From the information they sent me, it really sounded like they cared about my health as much as I did. And they probably do.
Hey… they even have videos to show me exactly how to use the product!
And sure, it motivated me to upgrade to a better (more expensive) model. Happily. With no questions.
Just to let you know… I'm kind of a tightwad when it comes to spending money. I'm not an easy sell, by any means.
Not only that, but I'll happily tell anyone about how my really cool tracker is helping me get back into shape.
(And it really is, along with a proper diet and a consistent exercise routine.)
In other words… they've gained an evangelist for their product.
Could you use an evangelist or two?
So, here's the deal.
Start beefing up your content marketing, dear industrial marketer friend. Service after the sale isn't just answering customer complaints.
It's so much more.
It's also about educating your market on how to use the product successfully. How to take care of it and get more life out of that bearing or motor or whatever you sell.
That leads to an army of evangelists, preaching the good word – about you, your company, and your product – across the land.
And… repeat business, which doesn't hurt.
Need help with that? Hey… I know a guy.
Has a really cool fitness tracker.
He'd be happy to help you get your content marketing back in shape.
Call him now, before he heads for the gym…
---
Article written by Steve Maurer – Steve Maurer Freelance Writing
(the Fitbit electronic thingy evangelist)
You can email me at steve@maurer-copywriting.com or call me at +1 (479) 304-1086. My contact form is here.
Mailing address: Steve Maurer
3000 West Anne
Street Fayetteville, AR (Arkansas) 72704
United States of America
Originally published on my LinkedIn profile here.