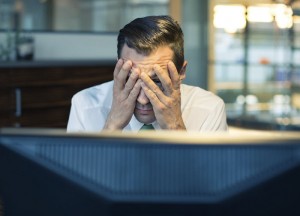 Some of you are working your job remotely from home, perhaps for the very first time.
Welcome to my world!
I'm an independent commercial business writer (okay … a freelance B2B copywriter), writing ad copy and marketing content for the industrial manufacturing and safety sectors.
For the past decade or so, I've been working remotely. In fact, over the course of that 10+ years, I've only met one client face to face.
One client.
And I've only worked for two clients down home here in Arkansas, the Natural State.
Two clients.
Many of my clients are scattered around the world. In fact, I know they've resided in at least three continents, maybe more.
Three continents. Maybe more.
So for me—and many of my freelancing peers—working remotely isn't anything new … it's our way of life. Our modus operandi, so to speak.
The internet is a freelancer's most important business partner.
And it's business as usual, for sure.
I want to pass along some work-at-home tips that my buddies and I use to improve productivity and still keep our sanity.
I still have a sound mind.
I think.
A full head of hair?
Not so much.
However, that's NOT related to working from home.
Uh … grandkids and old age, okay?
I digress.
Anyway, I want to pass along these remote working tips, gleaned from years of experience as a freelance copywriter.
If you're expecting a blatant call to action, I'm sorry to disappoint you. I'm not going to pitch you for work. I want to help you work successfully from home.
It's a brave new world, for sure.
And it's kind of scary if you're not used to it.
So, without further ado … seven remote working tips.
Success tips for remote workers
Many fail at working remotely because they tend to lose their work discipline. They slack off and create bad habits. To remain a successful, productive worker … do this.
Tip 1. Create an office space for yourself
Sounds simple enough. But many remote workers (and even some freelancers) never do that. When first starting out, my "office" was a TV tray in a corner of the living room. Eventually, I moved to the kitchen table as work got busier.
These days, I write from a real office that we added to our home. Got a real desk, a coffeemaker, and a small refrigerator (for those times when I must lay siege to the copy). And it has a locking door, for reasons you'll soon see.
Tip 2. Keep your office space sacred
Even when I was writing in the corner of the living room, my office space was sacred. The kids all knew when Dad was in his "office," he was at work. They learned not to disturb me and stunt my creativity. Most of the time, anyway.
It's a little harder these days. The kids have grown, but the grandkids have arrived! Even so, they're learning the drill. The little sweethearts will knock on the door, and ask Granddad if it's okay to come in for a hug. Of course, it's always okay for a short visit. They're a huge part of the reason why I do this in the first place.
Tip 3. Keep regular office hours and schedules
After a week of working remotely (or even a couple of days), you might be tempted to work "whenever." Don't even entertain the notion. Match the hours you worked at the office. Notice I didn't say try to match them.
I said, match them.
You had a regimen at the office … keep to it at the home office. That includes lunches and breaks. Remember, this may be a short term gig, working from home. When you go back to the office, you don't want to relearn your routine.
Tip 4. Dress for success
I know … it's tempting to work in your pajamas at home. And if you need to hop on a video conference call, well, they only see you from the waist up, right? You can just throw on a nice shirt. Don't. Even. Think. About. It. Wear the same "uniform" you did at the office. (Although, I hereby grant you expressed permission to ditch the necktie.)
You don't sleep in your work clothes. Don't work in your sleep clothes. And while working in your undies may sound cool (granted, it is a bit cooler than a suit) it's not a good productivity habit to make. Besides … what if you get called back to the office? It could get awkward. Just sayin'.
Tip 5. Develop start up and shut down rituals
I've heard this from others, but it really clicked when I learned it from Michael Hyatt. He likened it to a theatrical presentation: frontstage, onstage, and backstage. But let's check it out from an exercise or sports point of view.
When you schedule an exercise session, first you warm up, then you exercise, then you cool down. This keeps you from pulling a muscle or hurting yourself. In the home office setting, don't dive right into the work.
Warm up by reading, taking a shower, eating breakfast. Do something to get the blood moving. Take care of emails or social media or other chores first. Then work you heart out until closing time. Cool down by checking your email or other shop closing activities.
Ramp up … run, run, run … ramp down.
Tip 6. Pace your day and don't pull a hamstring
You might be tempted to plow full bore through your day. You might even think that if you do, you'll knock off early. You won't. Learn to pace yourself. One rule many copywriters adhere to is write for 33 minutes, break for 10, write for 33. Lather, rinse, repeat. Why do that?
There's a wise old saying: The mind can only absorb what the butt can endure. Whether you're learning or working, that's sage advice. Get up, walk around, get some fresh air, and get back at it.
Try it. You'll like it.
Tip 7. Lose the term, "virtual"
As more people started working from home, either temporarily or permanently, the phrase "virtual workforce" and similar terms became buzzwords.
Lose that. Right now. Drop it immediately.
Like I said before, I've worked my copywriting biz from home for a decade. And not once did a client say, "Let's have a virtual meeting." They just asked for meeting. Video conferencing is all the rage these days (I've been doing it for quite a while).
But a phone call is also "virtual." The only difference is a lack of video and photo opps. In many ways, online video conferencing is more real than a phone call. You can share screens and whiteboards and files. Just like … in a bored room, I mean, boardroom.
Whether from the office or home office, it's all real business. Never forget that.
My office is definitely not virtual. I just cracked my very real shin on the very real corner of my desk.
I have a very real bruise now.
Be right back.
Final bonus tip for working remotely
I want to leave you with one final tip for the day. This one's a bonus, a freebie. But nonetheless, it's likely the most important. And all the previous tips lead up to it.
Ready?
Here it is.
Leave work and business at the office, even the home office.
Had to catch myself. Almost said "virtual office."
See how pervasive and obtrusive that asinine term is?
But seriously, whether it's a room in your house, the kitchen table, or a tray table in the den, leave work in the office. Shut the "door," if need be.
I know what you're probably thinking.
"Steve, I know that already. I've been leaving work at the office every day for years!"
Yeah, I'm sure you have.
But remember, you're not in Kansas anymore, Toto. Your computer and email and phone (oh my) are right there behind door #2. Or in the next room.
Or sitting with arms reach.
Or in your pocket.
All the time, day in and day out.
It's going to take a special kind of resolve, of discipline, of intestinal fortitude (guts) to resist working 24/7.
I know for a fact … it's hard!
Do the hard thing. Leave your work at the office, even in the home office. Especially if it's in the home office.
It may be the hard thing. But, it's the right thing.
One last concept. Do contact your coworkers, your friends, your family. I belong to a group of copywriters who meet every Tuesday morning on the phone or Zoom. It's easy to get lonely or frustrated or apathetic when you work by yourself.
Stay in touch with humanity …
So you don't lose yours.
See you online!
Steve