I recently attended a four-day Web Copy Intensive seminar in Austin, Texas.
The roster of speakers read like a Who's Who in the field of web copy and marketing. The topics ranged from content marketing to landing pages to lead generation and email auto-responders.
In all, seven different aspects of online copy and marketing were extensively covered. I was there because even this old dog can learn new tricks. A B2B copywriter that doesn't keep up with new information and techniques is treading water. Eventually, he'll tire out and, well, you know.
It's important I keep up with these things. My clients depend on me to stay current. That's my job, not theirs.
I had a chance to chat with Heather Lloyd-Martin, one of the top experts in Search Engine Optimization (SEO). Quality SEO copywriting is vital to your website positioning well in organic search.
It's particularly important for industrial B2B copywriting and content marketing. The competition is fierce.
You need an edge.
Why SEO copy is often hard to write
It's pretty obvious that on-page SEO – giving the right answers to your prospects key questions – is a requirement. The keywords and phrases you use should not only speak to your readers, but the search engines as well.
That's not always easy.
Stilted, keyword-stuffed content will get you noticed by search engines. But not always in a good way. The old Black Hat strategies of a few years ago don't work today.
It's also hard to write good SEO content because you write for your readers first. That means using a conversational, dialog voice in your text. You want to talk to your prospect, not at them.
That doesn't always lead to good Search Engine Results Page (SERP) copy.  When your prospect reads the SERP snippet, just what do they see? It's not always clear to them what you do when you do write good reader-centric copy on your page.
Why?
Take this page, for example. This article is about using the Meta tags for site title and description. While the heading mentions that, the first paragraph or two don't. They're the start of a dialog between you and me. You don't always want to jump right into the topic.
Sometimes you want to warm up your audience first.
By default, the search engine snippet preview (the bit of text under the site title in the results) uses the first paragraph or so, about 156 characters. It may also choose bits of pieces of text that surround your keyword.
The result is a disjointed description of the page. Or in this page's case, text that doesn't speak directly to the topic.
So, how do you fix that?
It's not that hard, but it requires a little extra work on your copywriter's part.
Making Meta for better B2B search engine results
Meta tags are bits of code in the back end of the web page that instruct browsers and search engines in how to display and handle the page. For the search engines, they also explain what the page is about.
Sounds geeky, right?
But you don't need to be a coding guru to use them, particularly if you use WordPress for your website platform. And in reality, there are only two that really pertain to search engine optimization.
They are the Meta title and Meta description.
The Meta title is normally taken from the first heading on the page. If you look at the page tab in your browser, you'll see the Meta title. Yeah, it's that thing that no one looks at. But…
It also shows up as the title of the page in the search engine results. But it can be altered using the Meta title tag. In other words, instead of the first heading being used, you can make that title anything you want. Maybe – oh, I don't know – something that answers your prospect's question.
The Meta description is similar.
Remember how the search engines, particularly Google, uses the first paragraph or picks some disjointed text? When you use the Meta description, you help control what shows up on the SERP.
The best way to explain this is to show you. Click over to my wife's sewing business website. Go ahead. I'll wait for you.
Notice how her site content speaks to her prospect's concerns. Her clients love it because it directly addresses problems they have. But…
It's lousy for the search engine results page. Even the first heading, while good for readers, isn't too swift for the SERP. So how did we get around it, moving her to the first result on page one for her target market? What was the tactic that gave her a 700% increase in revenue in 2014?
Meta titles and Meta descriptions.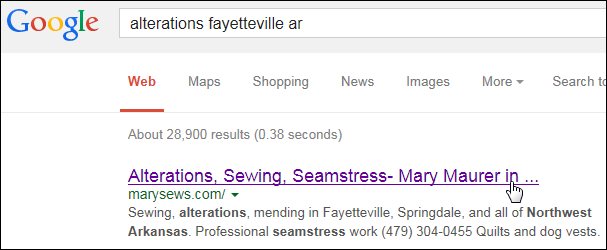 That's a screenshot of how her site appears on the search results page, taken today. Notice that the title is better optimized and that the description explains what she does, where she does it and how to contact her directly. And because of that and other strategies, she ranks number one for that keyword search.
All that magic was done using the Meta title and description tags.
Those tags allow you to write for both the search engines and for your prospects. Now they can find you, understand your business and buy your product.
Final thoughts on hiring a copywriter
As you can see, good Meta titles and description are important for SEO.
When you're contacting a freelance copywriter to write web page content, you need to query them about tags. Ask them upfront if their page content package includes writing the Meta title and Meta description.
If they get that "deer in the headlight" look, say thank you and walk away. If they're add-ons, same thing. Those two items are important tools for writing good web copy. They're so important that I include them in my copy and content packages as normal and customary, not add-on services.
I use them on my pages to optimize my results. Why should I do any different for my clients? By the way, here's the search engine snippet for this page in Google.

Your business is important. So is your product. Your prospects need your product or service. Make sure they can find you so they can benefit from your offering.
Use Meta titles and descriptions to make it happen.
The best of success to you!
Steve Maurer – Steve Maurer Freelance Writing