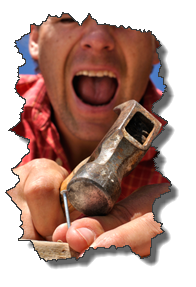 The importance of backups in protecting your data…and your business.
Screwed up my computer last night.
It's not something that happens often, mind you. I've been fooling around with these marvelous machines for longer than many of my clients have been alive.
But it does happen.
Taking a break from my writing chores, I thought I'd fix a minor problem that's been nagging me for a while. When I did, I ended up playing the "dummy card." I do that on occasion.
And that's why I keep a plan in place to protect me from my own stupidity. It was so idiotic and uncalled for, that I might as well have hit my thumb with a hammer. If I could kick myself without breaking my leg, I would.
Here's the sordid story.
Mistake #1 – Losing a password
Passwords are kind of important.
Make that really important. They are one line of defense that keeps our information and systems safe from the baddies. Strong passwords – not "password," your birthday, your kids' names, etc. – are safeguards that keep all but the most devious hackers out.
Forget one, though, and it will keep you out as well.
Yeah, dummy card coming up.
I use a password generator that creates a very strong password for everything I do. Each and every website, banking account and admin task gets it's own password. Using a generator, it's easy to create a random, unique password with the click of a button. And the program saves each one in an encrypted database.
The only username and password I need to remember is the one to open the database.
No…that's NOT the one I forgot.
I do my industrial copy writing and content marketing on a Windows-based ASUS computer. (I've been a "PC" for a long time). But I have an internal 30-gig SSD (acronym-speak for Solid State Drive) that's running a Linux operating system called Ubuntu.
Lately it's been asking for an admin password to install updates.
And that's the password I couldn't find. Not a huge problem, until I made…
Mistake #2 – An unprepared reinstallation
I searched everywhere for the admin password, to no avail.
So the simplest fix would be to reinstall the operating system, overwriting the old data. Which I did. Without thinking through it too deeply.
Idiot.
The installation went just fine. New password (which I did write down and put in the generator database later), problem-free install, the works.
But when I rebooted to complete the installation, the boot options never appeared. You know…the kind of important part that lets me choose which operating system to boot into. I just got a "grub error" message and everything came to a screeching halt.
I couldn't even boot into the Windows ® system. And I had some deadlines to meet the next day.
I've never missed a deadline and wasn't about to start now. Clients take a dim view of missed deadlines…and with good reason. They have a business to run and the show must go on, even though your computer is DOA. I've been handed several jobs because another freelancer couldn't keep their act together.
So I vowed to stay up all night, if necessary, until this screw-up was fixed.
Industrial machinery/electrical experience pays off
I write for the industrial machinery, manufacturing, electrical and related fields.
I chose that area of writing because it's what I've known and done for over a quarter of a century. I've been licensed and certified in many of the sub-fields in this niche.
So I've got some pretty well-defined troubleshooting skills. I know how a lot stuff works and if it's unfamiliar territory, where to find information. I won't go into great detail. Let's just say that after a couple hours of researching the Internet, I found the answer and got my beautiful machine up and running, both Windows®, where I work, and Ubuntu, where I "play."
So, why am I sharing my goof?
Always have a fallback plan
To be honest, if I didn't get my computer back up and running, it wouldn't have been a big deal.
Why?
I have a backup routine to protect my data. And I have a laptop. Without going into specifics, my work is saved to the cloud every 30 minutes. At the same time, it's synchronized to my laptop. And it's backed up to a local drive every night.
If my desktop was still dead in the water in the morning, I would just move to the laptop to complete my work.
A good backup routine is just one part of protecting your business. Like I said, my clients depend on me and need my work on time, regardless of the issues I may be having. I respect that. So I make every effort to keep my business up and running so that their businesses will profit from my work.
So, does data protection take time? Sure. Does it take some money? Yep. But is it worth the time and money involved?
It's priceless.
No matter what you do for a business, make sure you have a Plan B to fall back on. It will keep you from falling on your, uh…face. Just like my clients, your clients and customers depend on you for quality, on time work.
Respect that…and make it so.
To your success,
Steve Maurer – Steve Maurer Freelance Writing