"Could you say that again . . . in English this time?"
No doubt you've heard that phrase before. In fact, I'd imagine that you've said it yourself a time or two. I know I have on many occasions. And most of the time, it involves my wife.
You see, she's a seamstress and is quite good at her craft. She's got the tools to do all kinds of fancy stitches and cool stuff. And she's always taking classes to improve her skills.
Since her sewing room is right next to my office, I often find myself watching her sew, spellbound by her handiwork. The machine hums and her fingers fly over the cloth, turning a piece of fabric into a work of art. (That ought to get me a few points!)
Enter the dumb question!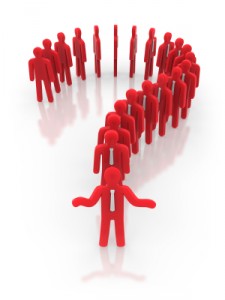 And then it happens. On the way to the kitchen to grab another cup of coffee, I'll stop to get a better look. Even though I should know better, I'll open my mouth and ask the inevitable dumb question, "What are you doing?" Stopping briefly, she'll launch into a detailed explanation about what she's doing and how she's doing it.
But it usually goes way over my head, confusing me with all that seamstressing terminology. Sheepishly I'll ask her, "I'm confused . . . could you say that again, in plain English this time?"
Seeing the dumbfounded look on my face, she'll put it into words that even this copywriting "genius" can understand. And we'll both laugh because it's really kind of comical.
But confusion is no laughing matter in business copy
What do I mean? If your prospects and clients don't understand what you're saying, it's no laughing matter. Poorly written copy or marketing content will kill an ad campaign, no matter how good the product or service.
If your readers don't get the concept, they won't get the product. Plain and simple.
There's a neat little acronym that many copywriters use: CUBS. If the copy is Confusing, Unbelievable, and Boring . . . it Stinks. But let's change that around a bit.
If your copy is Compelling, Understandable and Believable, it Sells.
Slay your Jargon-naut
Wow, spell checker went wild on that one. But really, one of the major problems with a lot of business writing is that it's riddled with jargon. The good old Merriam-Webster dictionary defines a juggernaut as a massive, unyielding force or object that crushes everything in its path.
That's a good definition for jargon too. If the jargon-naut invades your copy, it could crush your chances for success.
My mantra has always been: Keep it plain and simple. Notice that I didn't say simplistic. I'm just saying that your writing needs to be easy to understand. In fact, the easier your writing is to read, the more believable your reader will find it.
And if they believe you . . .
Got to go for now. I hear Momma's sewing machine humming away in the next room. Time to go ask another dumb question!
To your success,
Steve Maurer
Maurer Copywriting