I like recycling.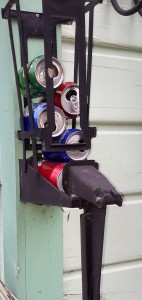 It really bothers me if I can't find a way to reuse something. Of course, it's not always possible and some stuff does end up in the trash (preferably, the recycle bin). But if you think hard, sometimes things can be repurposed, saving you some serious cash. Or even making some of it.
Here's a perfect example.
Many moons ago, I used to work for a sign shop. We made everything from small placards to huge, lighted signs. I worked as a fabricator and helped wire our customers' signs. We used EMT, which is thin wall electrical tubing made of steel.
The tubing came in 10-foot sections that you cut and bent to route the wiring.
Now, there would be a lot of metal scrap after each job.  We rented a dumpster from a local recycling company. All of our scrap metal was thrown in the dumpster and hauled off weekly.
Everything, that is, except the EMT pipe scraps.
A pipe by any other name … makes more money
Our boss had a different plan for scrap EMT.
Our sign shop was located smack dab in the middle of Arts & Crafts country. Little, and not so little, craft festivals ran year round. You could find a lot of neat stuff made by local, regional and national artisans. Everything from primitives and clothing to quilts and pottery.
And … wind chimes.
So the chief had this great idea to capitalize on these innovative crafters' needs. We would take the scrap EMT pipes, cut them into manageable pieces from 6 to 12 inches long and gather them together, usually 8 pipes in a bundle. We also kept many of them loose in a box.
Voila! The scrap EMT tubing was transformed into … wind chime pipe!
So, we sold our scrap, turning it into revenue.
They sounded great when repurposed as decorative wind chimes. And when you went to the fairs, you could see our scrap pipe, reincarnated as beautiful, melodic works of art.
Heck, I even bought a few for around the house!
Do the same with your content marketing
When you create your content, it doesn't have to be "one and done."
Recycle your content into various formats. Not only can you reach your target audience in a different format, one they might prefer more; but you can also save a ton of money as well. It's one of the options I give my clients.
When we bundle a repurposing project with a main project, I can provide the other services at a discount. For example, the investment for a series of blog posts, based on a special report, can be reduced.
Here is a list of content marketing projects, from the most work intensive to the least. Bundled services, starting with a project from the top and working down, save money:
White papers or e-books
Special reports
Case studies
Placed articles
Press releases
Blog posts
E-newsletter articles
Web pages (particularly landing pages)
Slide decks, and
Social media announcements
Each project can be easily repurposed to any of the formats below it.
If you use gated content for lead generation (and you should), then smaller projects in the lower end of the scale can be used to promote it.
For example, if the white paper is your lead gen magnet, then the content can be repurposed into press releases, blog posts and slide decks. Each of these points back to the white paper download page in their calls to action.
An informative landing page might give enough information about the white paper to whet your prospects' appetites. Hungry for the information, they'll gladly hand over their basic contact information to feast on the full-course paper.
Reuse, recycle, repurpose!
Repurposing bundles save money
Cards on the table time.
I'm in business to make money, just like you. And one-off projects at full price are profitable for me. But, consider this. When I do a one-off project for you, I've researched your product or service thoroughly, discovered the key concepts that are important to your target audience and written some compelling copy to boot.
The hard work is done.
And because the hard work is done, creating pieces based on that original is much easier. The mass quantities of research time are completed.
I can afford to give you a great deal on bundled services, as much as 30% or more off the single, line item investment.
And I do.
Go "green" with your content marketing
Whether you outsource your content to independent professionals like me, or create your content in house, do yourself a favor.
Analyze your content marketing strategy. See if you can save time and money by repurposing material. Saving time is saving money. Don't trash your content when you're done with it. Don't throw it into the scrap bin.
Turn it into beautiful, melodic works of art.
Art … that works to increase your profits.
__________________________________
Article written by Steve Maurer – Steve Maurer Freelance Writing
You can email me at steve@maurer-copywriting.com or call me at +1 (479) 304-1086
Mailing address: Steve Maurer 3000 West Anne Street
Fayetteville, AR (Arkansas) 72704
United States of America