But, I had a feeling someone was at the door.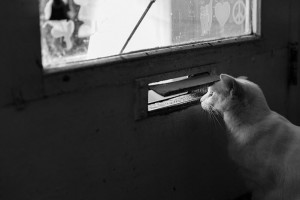 Must have been someone there because the cat was peeking through the mail slot, howling like a banshee.
By the time I got there, though, they were gone. I think I saw someone strolling around the corner. Sometimes they leave a door hanger. But often, the only thing I see is their footprints in the lawn.
So, I have no idea who they were or what they wanted. I'm not too worried about it. They probably didn't have anything I needed anyway.
But, if my house was a B2B website, I'd be concerned.
Really concerned.
You've got to get them knocking
I'm a freelance B2B copywriter.
My targeted market is the industrial manufacturing industry. Occasionally I'll write for other B2B markets. I write various forms of copy and content.
But my specialty is getting website visitors to knock.
I was approached by an agency to write "content marketing" articles for them. They found my website on Google by searching for an industrial copywriter.
And they knocked.
They wanted a copywriter to pen content marketing articles for their B2B clients. It was good money. Really good money. But they wanted 4 or 5 articles a day!
Just couldn't bring myself to take on the project, even at their unusually good rate.
These articles were for SEO only. They were to boost ranking in the search engines. The reader, the real reason for the article, was barely considered.
All they cared about was getting the reader to the door. They didn't care if she knocked or not.
I do care.
They didn't want a copywriter … they just wanted a writer.
Sorry. That's not how I roll.
Why you need a real copywriter
Many people can write beautiful text. Amazingly complex words. Properly written sentences. Wonderfully constructed paragraphs. And with barely a shred of research!
That's writing. Not copywriting.
Copywriting, even in content marketing, goes deeper … much deeper. Search engine optimization (SEO) is important.
But, a skilled copywriter won't even write a word of content or copy until he's done his research. And takes tons of notes. He learns all he can about the product AND the prospect.
He discovers where the two intersect before moving on to the text. What the real, core benefit is to the prospective buyer.
That can't be done in a day. Not if the content is to be effective.
And all the skills and strategies he or she uses in creating persuasive copy are brought to content articles.
If the content is just free information, if the content isn't written to trigger a response or change an opinion or touch a nerve …
Your visitors won't knock.
Copywriting – expense or investment?
In the end, it's up to you.
You can bring in a cheap writer, or even an expensive one, and have them write your content marketing articles. But, if they don't understand the principles of copywriting, either one is just an expense. You'll get content, not content marketing.
Key word there – marketing.
But when real copywriting principles are used by a skilled copywriter to write your content and copy, you transform the fees paid from an expense to an investment. Even if your visitors sneak in unannounced, a trained copywriter can fix that, too, by capturing the lead.
The difference will show in your bottom line … profits.
When your prospects come calling, make sure you have something valuable for them. Something that will make them want to knock on your door.
They might just stick around so you can greet them.
Need your "door" fixed? Knock on mine.
To your success!
Steve
________________________________
Article written by Steve Maurer – Steve Maurer Freelance Writing
First published on my LinkedIn Profile Pulse feed.
You can email me at steve@maurer-copywriting.com
or call me at +1 (479) 304-1086.
My contact form is here.