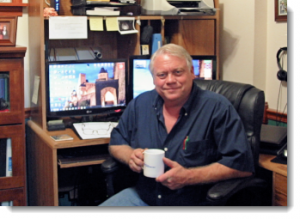 I'm a professional, freelance business writer, specializing in content marketing; content that engages readers and promotes my clients as credible, reliable and trustworthy.
As likeable experts.
Likeable experts that convert casual readers into interested prospects, interested prospects into loyal followers, and loyal followers into faithful customers or clients.
And that's what I do for my clients.
---
So, how's that for an elevator speech?
But that's exactly what I do. And I'd like to do the same for you.
The current marketing trend is focused on top-quality, useful information, presented through attention-demanding, thought-provoking writing. Actually, it always has been. Content marketing is a valuable and extremely effective sales tool.
It's simply more effective when it's done right. Plain and Simple!
Google's Hummingbird update makes it even more important that your online content speaks directly to your readers, not just to the search engines. Don't know what "Hummingbird" is?
Don't worry; I've got you covered. I keep up with stuff like that.
My job — whether as a content writer, consultant or strategist – is to make sure your message is presented clearly to your targeted market prospects. And my job is also to present you as someone they can get to know, like and trust.
In other words, together we'll transform you into a likeable expert.
If your content doesn't answer their questions, explain the benefits and solutions your product holds for them, and promotes you as the BEST solution, it's simply not effective, regardless of the number of social media "likes" or SERP "clicks" you get.
So, are you ready to be transformed?
Steve Maurer – steve@maurer-copywriting.com
Office Phone: (479) 304-1086
---
Organizations and Memberships

| | |
| --- | --- |
| | |
---
Contact me today so we can build your business together!